Use the perfect time when the customer is enthusiastic about your product or service and get recommended.
Create your personal profile
with your business details.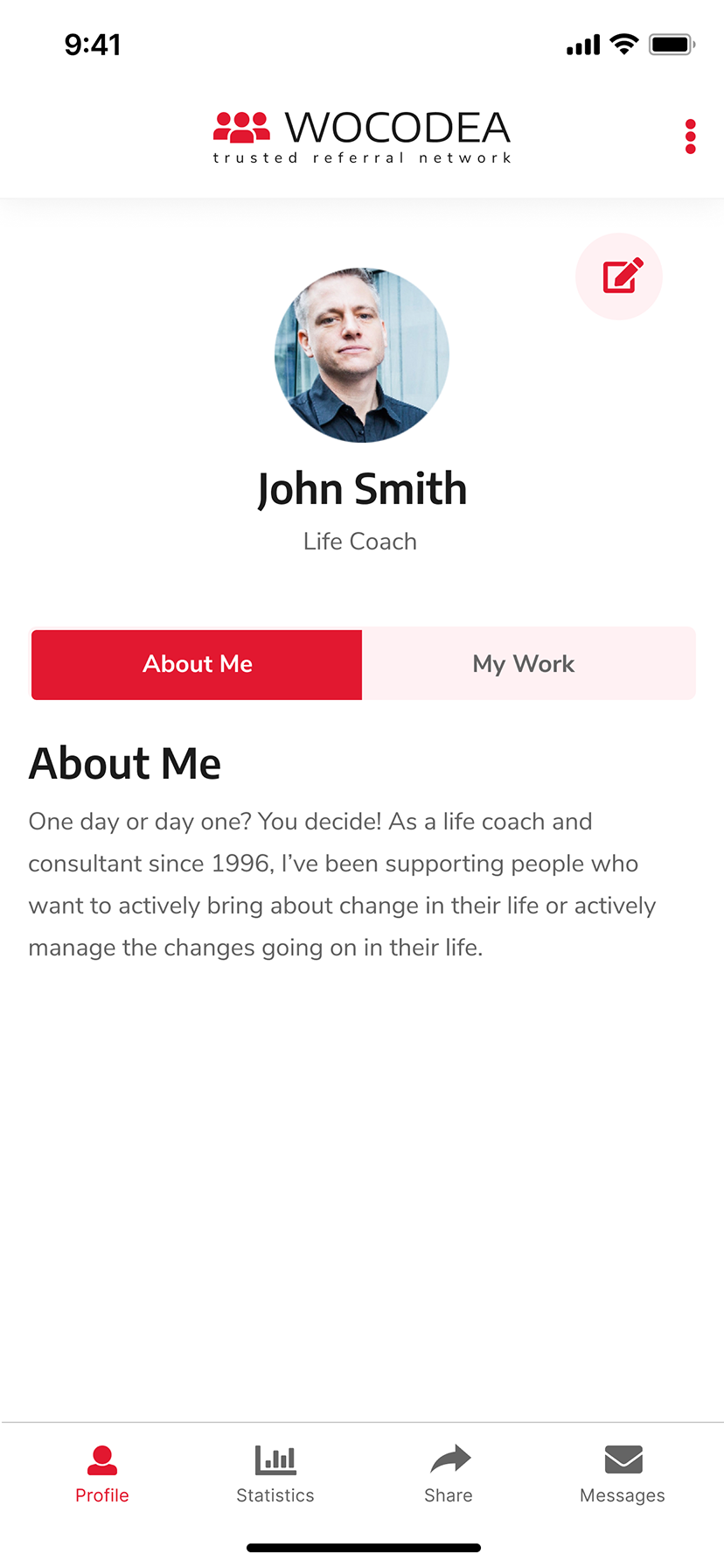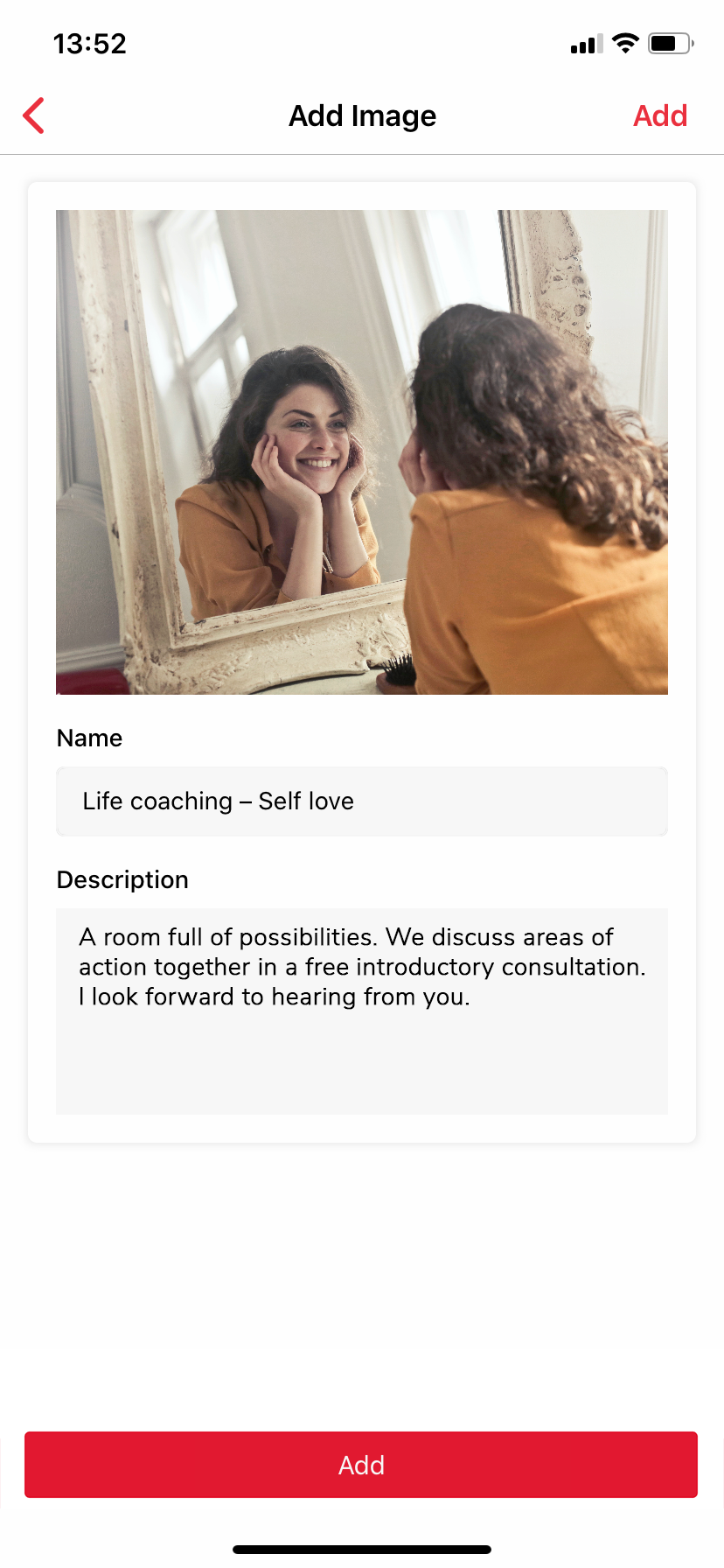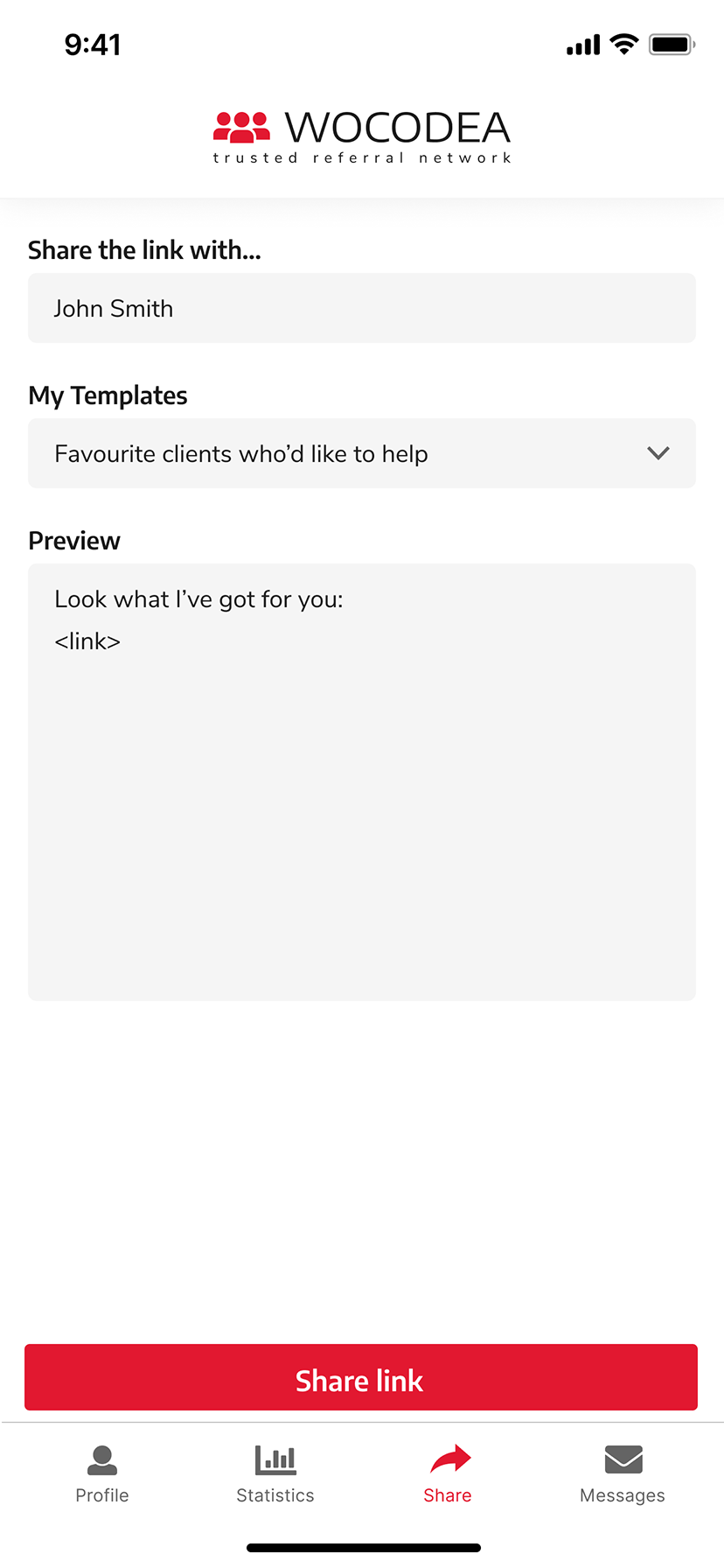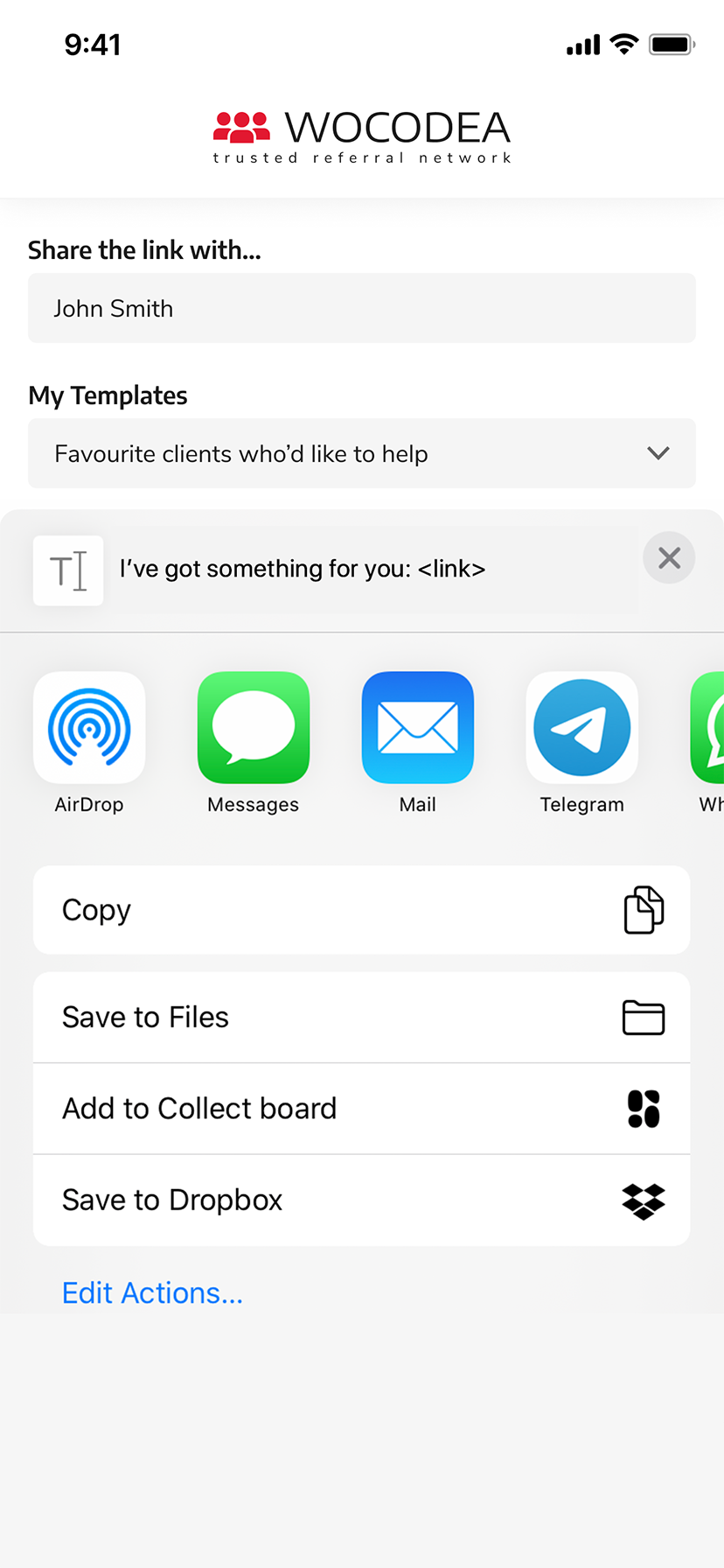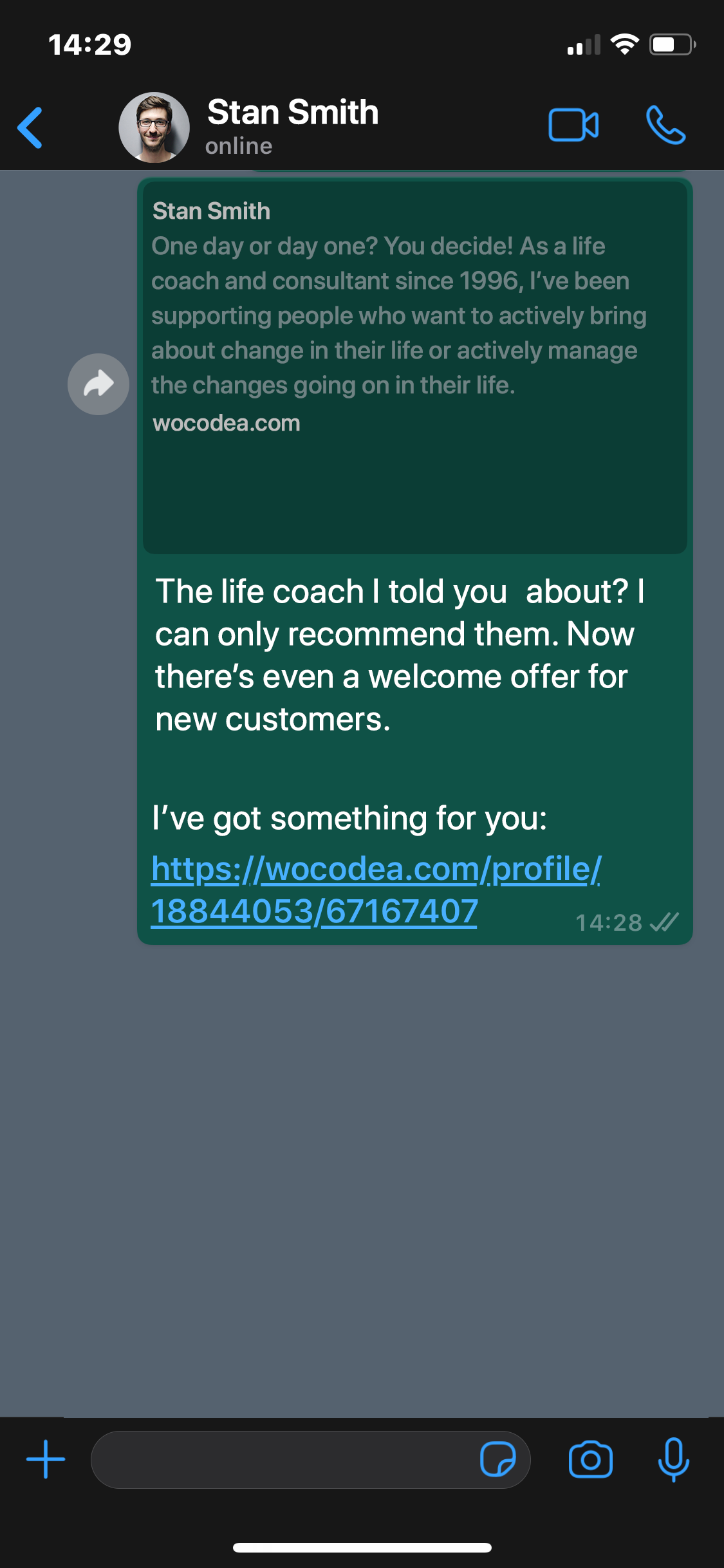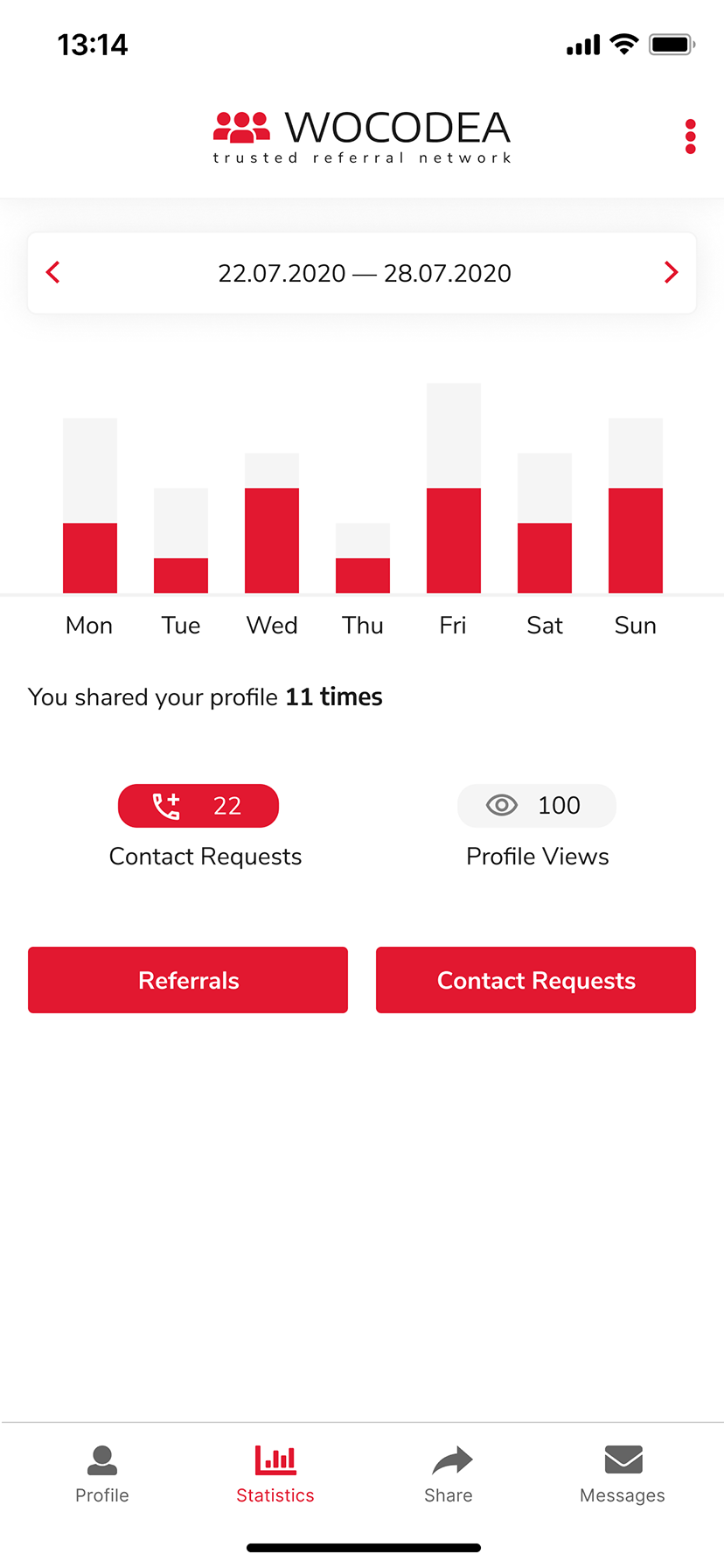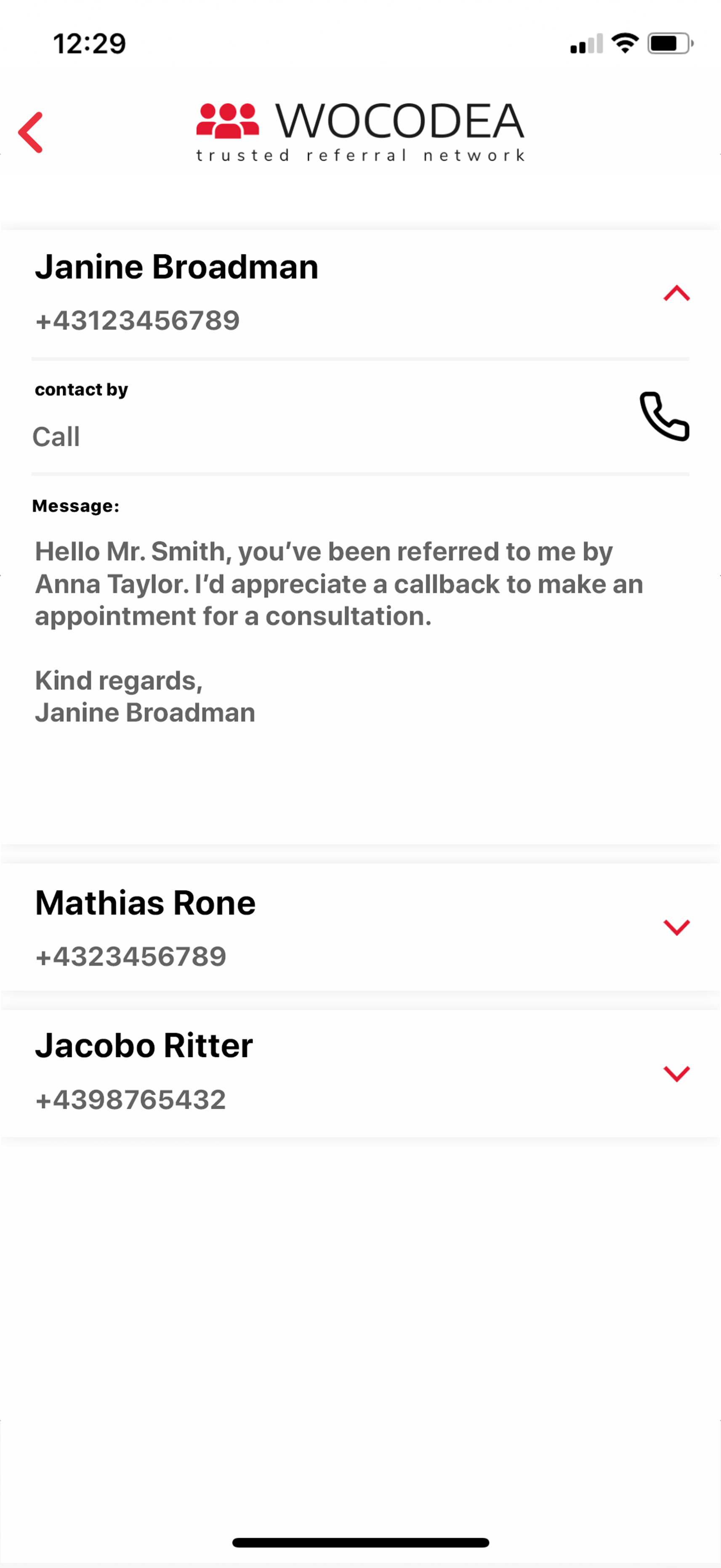 Create your personal profile
with your business details.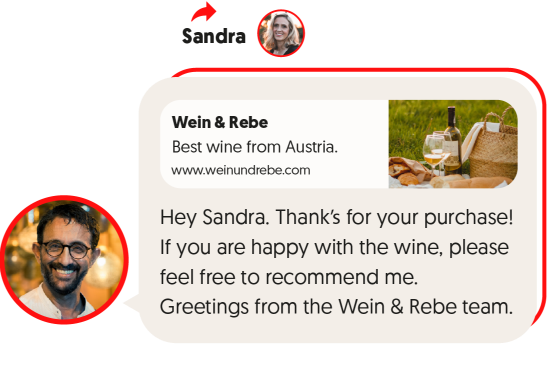 1. Excite your customer
Don't lose your chance! Send customers your WOCODEA link at the perfect time when the customer is enthusiastic about your product/service.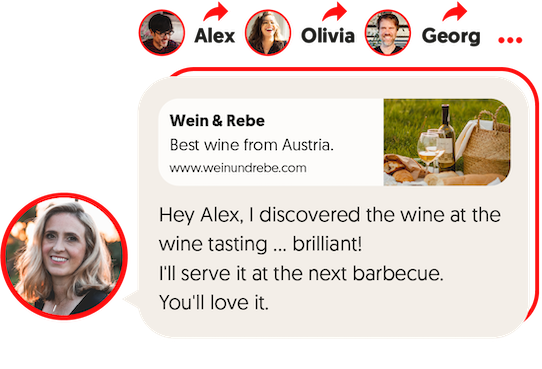 2. Let's get recommendations
Your customer recommends you to his family & friends and thus expresses his enthusiasm. Personal recommendations are worth their weight in gold!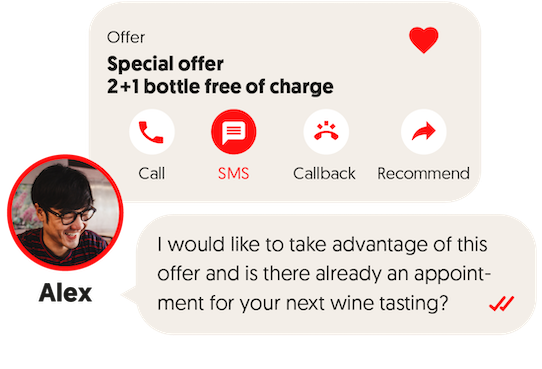 3. Win new customers
You will receive valuable new inquiries and use recommendations to build trustworthy and strong customer relationships more easily.
The value of personal referrals
Greater visibility, more new customers.
With every single person who make a referral, you raise the visibility of your profile and subsequently the number of potential new customers.
Each of 11 referrers receives a recommendation link from you. In total, these 11 referrers share the link to your WOCODEA profile with 123 other people. This reach results in 100 profile views. Which means your profile was viewed 100 times by potential prospects. From these 100 profile views, you receive 22 contact inquiries, which means 22 potential new customers.
Please note that the performance of your WOCODEA profile depends on many factors such as industry, service quality, new customer offer, etc. So why not try it out for yourself today? Or browse our tips & tricks in the Dealmaker magazine.
One profile. One click.

Valuable recommendations.
Personal customer recommendations have the greatest impact – the WOCODEA app makes it easy!
Clear
Business Profile with C(l)ick.
Your WOCODEA profile gets to the heart of your strengths and values. Convince through clarity, inspire with your passion.
Smart
The power of digital recommendations.
The strong combination of word of mouth and the powerful app will make you a smart and happy entrepreneur.
Proactive
Use your momentum.
The app supports you in the sales process. You're doing a great job and your enthusiastic customer recommends you. That's it!
Visible
Clear statistics.
Personal recommendations have never been so visible as with your app. You see who recommends you & who is interested.
Real
Honest marketing.
Personal recommendations work because they are based on real experiences from people we trust.
Affordable
One pizza a month.
Strong and honest customer relationships are priceless. And certainly you can treat yourself to a pizza thanks to your success.
Enthusiastic


customers

The greatest confirmation are voices from customers who have success and fun with the product and enthusiastically recommend WOCODEA.
The service plans


at a glance
Easy Growing
Create profile and offer
Unlimited contact requests
Daily success statistics
from € 12,49 /mo
cancel anytime
Popular!
Professional Growing
Easy Growing Plan
Archive customer inquiries
Individual text templates
Detailed statistics
Create up to three offers
Exports contacts
Promo in Dealmaker magazine
from € 27,49 /mo
cancel anytime
€ 99,99
Team Growing
Professional Growing plan
Up to 10 seller profiles
Evaluation of team statistics
New! Team trainer
New! Dashboard
On demand
Learn more
Tipps & Stories
Real stories and the best tips from and for enthusiastic entrepreneurs.
Recommended Dealmaker reads
WOCODEA
Passionate companies inspire us.
With WOCODEA we want to give everyone a tool that enables real and
sustainable customer relationships from the very first click.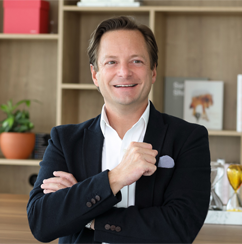 Markus Nagl
Founder | CEO
To the profile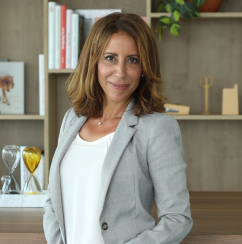 Paula Czeczil
Founding Partner | CSO
To the profile
"We created WOCODEA to offer a platform that enables faster acquisition of new customers to those people who get up every day to offer their customers outstanding services and products. When enthusiastic customers think 'I can only recommend them', then that is the fundamental requirement for successful referral management. These people deserve to be referred to others and to build up a large customer base — despite, or even because of, these challenging times. That's why we're working constantly to make WOCODEA even better."
Work passionately.
Win new customers.
We believe in the power of outstanding products and services of our customers. The WOCODEA app rounds off the sales process and enables a strong customer relationship with existing and new customers in a very natural way.
Good questions lead to the best results. If you still have questions, feel free to send them to us via the form.
What is WOCODEA?
WOCODEA is the referral app for your personal business. With the help of WOCODEA, you can systematically generate new customers through your existing client base. You can do that really easily by getting your enthusiastic existing customers to refer you to potential new customers.
Who is WOCODEA for?
WOCODEA is intended for all business owners who are looking for new customers. Such as a wedding photographer looking for orders for the late summer. Or a graphic designer who works remotely and would like to take a well-paid design project with her on her next trip to Bali. And a housing finance provider who'd like to expand her customer base to the end of the year. Or hairstylists who'd really like some new customers that very same week.
How does WOCODEA work?
WOCODEA works in three really simple steps:

Step 1: Register and create a profileWhen creating the profile, ensures that you describe your offer or service as well as possible. What do you offer? How long have you been in the business? Why do you love your job? What can you offer your customers? Maybe there's a new customer bonus you can offer potential new customers?

Step 2: Create a referral list and share it with existing customers. Having worked in sales for decades, we've learned something important: Most of your customers are definitely prepared to recommend you to others. The only thing is very few people ask about it Have confidence in yourself. Create referral links and share them with your enthusiastic existing customers through every possible digital platform (WhatsApp, email, messages, social media, etc.). Ideally, you'll speak to your existing customers in advance to get them to support you and your referral.

Step 3: Handle contact inquiries. In the "Statistics" area, you can view the status of your referrals at any time. You can see how many links you've created, who you've shared them with, how many people have visited your WOCODEA profile, and how many contact inquiries you've received. In the case of contact inquiries, we'll also send a notification to your smartphone. Because it's essential you follow up on a contact inquiry the instant you receive it. Respond promptly to win and retain potential new customers for yourself.
Why does WOCODEA work so well?
Referrals from family and friends are the most trustworthy sources when it comes to information about products and services. With WOCODEA, we want to reward all self-employed people, SMEs and sales experts who already have enthusiastic people in their customer portfolio. That sets the stage for WOCODEA referral marketing. Compared to other forms of advertising (e.g. social media advertising, search engine advertising, etc.), you can reach out to new customers faster and more efficiently.
Is WOCODEA worth it for me?
When coming up with the pricing, we focused on self-employed people, SMEs and sales experts. So that you can test WOCODEA without obligation, we'll send you the first inquiry from a prospective new customer free of charge. You can then opt for the Easy Growing Plan or the Professional Growing Plan. Both plans let you generate unlimited referral links and receive unlimited inquiries from prospective new customers. For example, if you're a hair stylist and charge an average of € 50 for your services, then you'll recoup the investment in the first month with the first new customer you get. After that, you'll continue to profit each time this new customer visits you, and won't have to pay anything extra for them.
How and when can I cancel my WOCODEA plan?
Your personal WOCODEA plan (Easy Growing or Professional Growing) is billed monthly and can be cancelled at any time. The best way to do this is through your personal AppStore or PlayStore profile. You can change WOCODEA to a free profile in the "Subscriptions" section.
Is it also possible to recommend WOCODEA to others?
Of course. If you have friends, family or acquaintances who are looking to expand their business with new customers, then simply share this page with them.
Is there also a solution for large companies?
The WOCODEA solution in the AppStore primarily focuses on self-employed people and smaller companies. However, we're already working on a Team solution for larger companies. If you're interested in a corporate solution, then the best thing to do is contact us in person using the contact form at the end of this page.
Will I actually be referred to others?
Yes! Having worked in sales for decades, we have realised one thing: Enthusiastic customers are the best basis for generating new customer business. The absolute majority of your enthusiastic customers are prepared to recommend you and your product or service to others. Simply ask them to do so. Ideally the next time you speak to them in person.
How do I contact a prospect?
Congratulations! You've got a prospect. So now you've got to ask yourself what's the best way to make contact? Well, first of all: You were recommended and the prospect has already read through your profile. So you've aroused genuine interest and the prospect will probably get in touch with a specific inquiry. Check the contact inquiry carefully for how the prospect would like to be contacted — whether using WhatsApp or a phone call, for example. When you make contact, then ideally make brief reference to the person who recommended you. Say thank you for the inquiry and immediately ask how you can be of help. And then you're talking. Good luck.
Here we go!


Gain new insights.
Interested in the WOCODEA app? Ask your questions, we will support you.